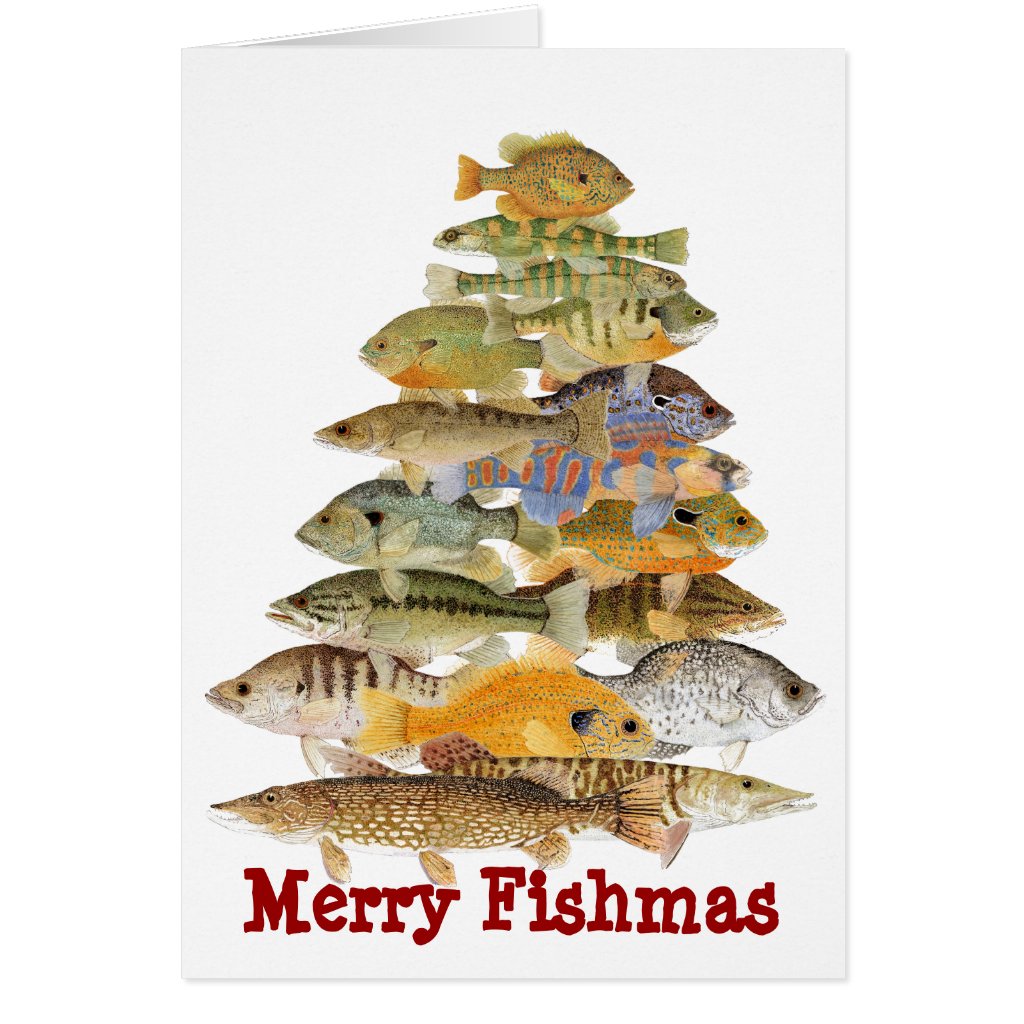 During this holiday season, there are many traditions that we follow without question.

They are

like memorized lyrics "chestnuts roasting on an open fire."

We bake cookies, decorate a green tree, and leave cookies and milk out for the Christmas intruder/visitor. However, there are also some holiday traditions that involve fish.

In the The Feast of the Seven Fishes, Italian-Americans celebrate the wait for the baby Jesus by eating seven types of seafood.

We eat pickled Herring at the stroke of midnight on New Year's Eve to bring a year of good fortune. Eating fish is thought to bring good luck, but in some cultures it is important to serve the fish with head and tail intact to ensure a good year from beginning to end.
For religiously observant Jews, Gefilte fish has become a traditional food for Shabbat and Passover.

Gefilte fish resembles a large meatball made from ground fish and matzo ball mix and cooked in fish stock.

In one Czech Christmas custom,
fish scales are placed under Christmas dinner plates to bring wealth to the house and carrying a fish scale in your wallet all year ensures that money will not run out.
Scandinavian-Americans favor

L

utefisk for their holiday tradition. Lutefisk, the food of poor Scandinavians, came to the United States with its immigrants and the tradition lives on in holiday Lutefisk dinners Lutefisk is a well-disguised Atlantic cod. It is not surprising that cod was a common food of Scandinavia, eaten for centuries; the northeast Atlantic has the world's largest population of cod. The traditional preserving method first air dries the cod in a cool, dry climate until it appears as hard and dark as an old shoe.

This extends the shelf life by several years.

Later it is reconstituted by soaking it in lye.

Yes, lye. To make the fish edible again, the lye-reconstituted fish is soaked repeatedly in cold water.

This tradition lives on despite the fact that most dislike the taste and texture of Lutefisk. But it is a tradition, just like Lou T. Fisk, the fishy ambassador for Madison, Minnesota, the self-proclaimed Lutefisk capital of the USA.
Given the many holiday traditions involving fish, it is surprising to me that there are so few fish named for the Christmas holiday. The International Commission on Zoological Nomenclature is the adviser and arbiter of scientific names of animals.
However, common names are not standardized by this international code.

Why are so

few fish named for Christmas?

There is a Christmas Wrasse from the western Pacific Ocean, and a
Christmas Darter

Etheostoma hopkinsi

and a Holiday Darter Etheostoma brevirostrum from the Southeast USA
.

If you know of other fish named for Christmas, please post a comment below.
Two Christmas Darters. Top by Dustin Smith and Bottom by Michael Wolfe
The Christmas Darter is one of the 184 small, colorful bottom dwellers in the Family Percidae.

They are small, tube-shaped fish with stiff spines on the first dorsal fin.

The Christmas Darter was named for its bright red and green breeding coloration.

Its scientific name hopkinsi was for Milton N. Hopkins, Jr., who collected the type specimen.

The Christmas Darter has a small conical shaped head, broad frenum (frenum is fleshy bridge that connects the snout and the upper jaw), and 2 anal spines.

Breeding males have a bright red submarginal band on its spiny dorsal fin.

What makes it the perfect Christmas specimen are the 10-12 dark green bars on side, separated by red in the male.

The female has yellow blotches between the green bars.

The Christmas Darter is restricted to the Savannah, Altamaha, and Ogeechee River drainages in South Carolina and Georgia

These small fish are only 1.5-2.5 inches as adults and inhabit gravel-bottom riffles of creeks and small rivers (Rohde et al. 2009 p 358-360).
So consider starting a new tradition this Christmas.

Print out this sketch of the Christmas Darter and color it in with bright red and green and add it to your Christmas decorations.

Or download an app to digitally "paint" the Christmas Darter. Perhaps decorate a few Christmas Darter cookies or shape some Gefilte fish to resemble Christmas Darters.
Christmas Darter.

From SC DNR Fishes of Concern Coloring Book
Espinsosa-Pérez, H., L.T. Findley, C.R. Gilbert, R.N. Lea, N.E. Mandrak, R. L. Mayden, J.S. Nelson, and L.M. Page. 2013.

Common and Scientific Names of Fishes from the United States, Canada, and Mexico, 7th edition.

American Fisheries Society, Bethesda, Maryland.
Knepley, M. 2014.
Fish in Focus: Christmas Darter,
Etheostoma hopkinsi
American Currents

Winter issue.
Rohde, F.C., R.G. Arndt, J.W. Foltz, and J.M. Quattro.

2009.

Freshwater fishes of South Carolina.

University of South Carolina Press, Columbia, South Carolina. 430 pp.
Straight, C.A., B. Albanese, and B.J. Freeman. [Internet]. [updated 2009 March 25]. Fishes of Georgia Website, Georgia Museum of Natural History; [cited December 21, 2015]. Available from: http://fishesofgeorgia.uga.edu